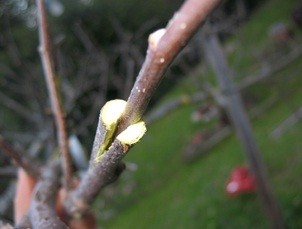 This past weekend Melissa and I were invited to attended a church with some friends. It was different. It met in an elementary school lunch room. They meet on a Saturday nights. Not only was it different but it was small and familar. I wasn't sure what I was doing, but the Spirit inside me did. As soon as we walked in we were met at the door. We weren't just greeted, but welcomed and brought in like family. It was like being a part of the same body. After the service ended, we were invited to share in the traditional post service ritual of eating out at the usual spot. It was an awesome time of fellowship. I'm sure that if any one was watching our group they would never have know that we had just meet a couple of hours earlier.
The week before that a dear friend came to visit us for a week. I marveled at how well she was brought into the family, from being spurred on to participate in her first Easter egg hunt, to being forced to find her hidden basket. Our family brought her in and made her their own. I was so proud to be a part of that.
I guess the trick about grafting a plant is that both stems need to be cut. It takes openness and willingness from both sides, one to embrace and one to be embraced, to make Spirit-led community happen. Have you been greeted and grafted in? Are you willing to open yourself up to the lives of others?